The Economic Effects of The Rise And Fall Of Rice Production In Nigeria
Keywords:
Rice Production, Inflation, Gross domestic Product, Economy, Nigeria
Abstract
The world experienced a dramatic increase in food prices during the first half of 2008. According to FAO (2008), international nominal prices of all major food commodities reached their highest levels in nearly 50 years while prices in real terms were highest in nearly 30 years. The FAO food price index increased by 53.0 percent for the first three months of 2008 compared to the same three months in the previous year. The rising prices of food are led by vegetable oils which increased by more than 97.0 percent followed by grains which increased by about 87.0 percent (Ehui, 2013) The current agricultural market is characterized by the increase in international prices of not just a few but of nearly all major food and feed commodities. The increase in prices is expected to have adverse effects on poverty and is worrisome precisely because it is expected to hurt the poor the most.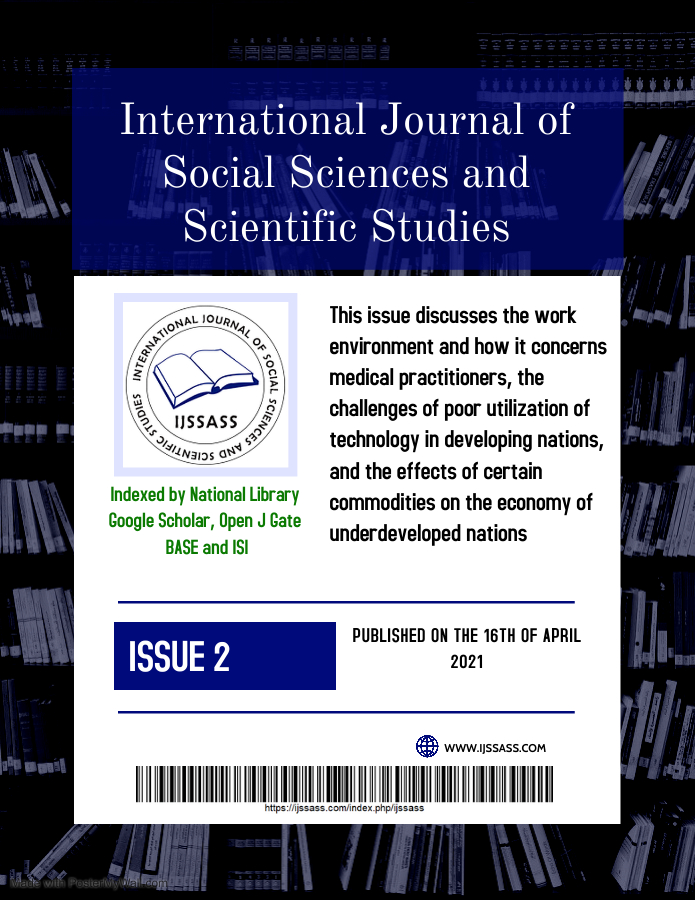 Downloads
How to Cite
Ekoh, G. S., & Ilunga, C. M. (2021). The Economic Effects of The Rise And Fall Of Rice Production In Nigeria. International Journal of Social Sciences and Scientific Studies, 1(2), 43 - 70. Retrieved from https://ijssass.com/index.php/ijssass/article/view/13
License
Open access and copyright policy
The journal offers access to the contents in the open access system on the principles of non-exclusive license Creative Commons (CC BY 4.0). Thus, the authors are required to agree with that policy. In this regard, authors will be asked to complete a submission card with a copyright transfer agreement that specifies detailed descriptions of the copyright transfer. The submission card is provided via email before the publication. 
Publication fee
IJSSASS is a self-funded journal. For this reason, the journal handles a publication fee. The current publication fee is provided on the journal's Web site in the section Instruction for authors. Thus, the publication fee that is required for manuscript processing is clearly stated on our website